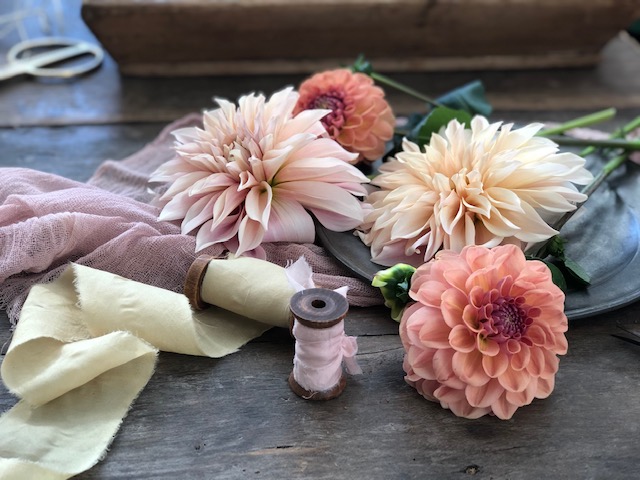 Learning to dye with dahlias
For a long time I have been keenly interested in dying with nature. I can remember reading as a child the book Farmer Boy by Larua Ingalls Wilder and being fascinated that Almanzo's Mother used nuts and berries to dye her wool that she weaved into fabric to make their clothes. Even as a child I wanted to try that when I was "an adult" and many years later I can say with joy "I have!"
Having a flower patch and seeing some beautiful botanical dyeing on Instagram and Pinterest reignited my fascination and slowly I began looking into it again but the push that got me into actually do the dyeing steps myself was a little idea I had, to gift the attendees of my flatlay workshop with Mandy from White Cottage Flower Farm with something they could take home and add to their prop collections. Silk ribbon is something I use in my own flatlays and thought would make the perfect gift. So after dreaming of what colours I would like to use, I settled for a soft pink and creamy colour and set out to find what ingredients would create these colours. Dahlias are certainly not what I thought to use at all but I will get to that.
A quick overview of what I learnt makes successful botanical dyeing
Tip#1 – Mordant your fabrics and remember patience is a virtue when it comes to dyeing with botanicals.
Mordanting is an important step in the natural dyeing process. It is a pre-treatment that facilitates a stronger bond between the fiber and the dye but it can take time. My first attempts at dyeing were dismal to say the least! I didn't have time for mordants as my research in to vinegar mordants showed evidence that the colour faded eventually, which seemed to me to waste time and effort in the long run, and being the somewhat impatient creative person that I am, I wanted instant results and an iron mordant where it has to stand for 2-3 weeks seemed unbearably long. So I did what every impatient person does and made a mess of the whole process! Take the time to mordant your fabrics and enjoy the process, it helps you be patient.
Tip #2 – Purchase quality fabric
I bought some cheap silk and paid the price. It didn't absorb much dye at all and was really a waste of time. Another tip I will say about your farbic make sure you don't skip the step of prewashing. It is important to prepare your fabric so the dye adheres and doesn't fade or wash out.
Tip #3 – Take notes!
We always say "Oh I will remember that" and invariably forget it 100% the next time you go to do it. Passwords are a classic example of this policy in play. If you absolutely love the colour your fabric turned out then it would be a shame to not be able to recreate that again and without notes this is alot harder. Even if you are just doing this for the fun of it I would still encourage you to take notes.
Tip #4 – Aluminium Pots are great for dyeing with
You can use any type of deep saucepan to dye with but an Aluminium pot will give you a better colour. I used a normal saucepan until I mentioned to my Mother in Law about this and she so happened to have a deep enough Aluminium pot in the shed gathering dust. I couldn't believe my luck! "Why yes I'll be very happy to take that off your hands, thank you so much!"
Now onto dyeing with Dahlias
As part of my research into dyeing with flowers I purchased the book Natural Dyeing with Plants by Franziska Evner and Romana Haseonohrl and one of the plants they focused on was dahlias. At the time I was full into dahlia season and had many deheaded dahlias wasting away. The book told me that dahlias make a beautiful yellow or orange colour but as they used mainly orange toned dahlias for their dyeing I thought maybe if I used all my pink and red dahlias it might turn out a beautiful pink, perfect for my silk ribbon idea!
I found out that it doesn't matter if you boil orange or pink and red dahlias, the colour they dye is yellow to orange tones.
I weighed my dahlias and then covered them with water and boiled them away for an hour. Dahlias don't give off a pleasant smell when boiling, just a heads up. Initially the colour was a beautiful pink tone from the burgundy dahlias buried at the bottom but within 15 mins of coming to the boil the water was an exciting mustard colour. I love the colour mustard so happily gave up the dream of a creamy colour ribbon in favour of this exotic colour. After letting it cool I strained the dahlias through a muslin cloth and got ready to add my fabric.
How I mordanted my fabric…
Learning from my previous attempts I bought some good quality silk and mordanted it with soy milk. The reason I chose this method was that it was cost effective and something I could easily get from my supermarket. I had been trying to find some alum powder to try but had to wait a few weeks for it come by post and it was a bit more expensive then I thought.
Soy isn't actually a mordant but it does act as a binding agent between the fabric and dye. I also found that using soy milk as a mordant changed my stark white silk to a beautiful off white which I think gave my fabric an earthier tone, something I didn't expect but I was quite happy to have created. I used a ratio of 4 cups of soy milk to 2L of water and made up a double batch as this was enough to cover my fabric. I left it to soak for the day, spun it out in my washing machine that evening and then hung it over some chairs until it dried, and repeated the process three times, overall the process took three days (evidence I suppose that I had learnt my lesson about patience and mordanting fabric). Silk doesn't take long to dry, especially as I was doing this in summer temperatures so I even got to soak it again before I went to bed and repeat the process the next morning.
A note about using a soy milk mordant, don't worry if it curdles, this won't ruin your fabric but just a sign that you have used that mordant for long enough and need to make up a new batch.
Adding fabric to the dye bath…
You need to make sure your fabric is wet when you add it to the dye bath so after rinsing under water and spinning it out, (make sure you let your fabric dry completely after your last soy soak) I added my wet fabric into the dye bath. Instantly it turned a golden tea colour but as I wanted a deeper mustard yellow tone I continued to boil it carefully for an hour. It still wasn't quite the colour I wanted at the hour mark, it looked like I had dyed it with tea and after all the trouble I had gone to I wanted more than a fabric that looked like I had just tea dyed it. Plus where was the beautiful mustard yellow gone that had been in the boiled dahlia water? (I have since discovered that the soy milk mordant was giving it that earthier tone) In the end I boiled it for 4 hours and at each hour mark it was becoming more golden yellow.
I would have liked to have boiled it longer but was losing enough liquid to cover the fabric completely so I turned off the heat, ran it through the washing machine spin cycle and hung it out to dry. Within half an hour I had beautiful buttery yellow fabric ready to be torn in ribbons for my workshop.
Now I had one beautiful colour to use for my silk ribbon I then repeated the whole process using locally grown beet root for my pink colour. This made a bit more of a vibrant pink then I wanted so I mixed up a potash post mordant mixed with Kenya Black tea and it toned it down to the blush pink I was after.
And there you have it! Beautifully dyed silk with natural dye ready for my workshop. If you would like to read and see more photos of our flatlay workshop you can read it here. If you would like purchase any of my dyed silk ribbon for your own prop collection you can get them here
Thank you so much for reading, until next time!
You May Also Like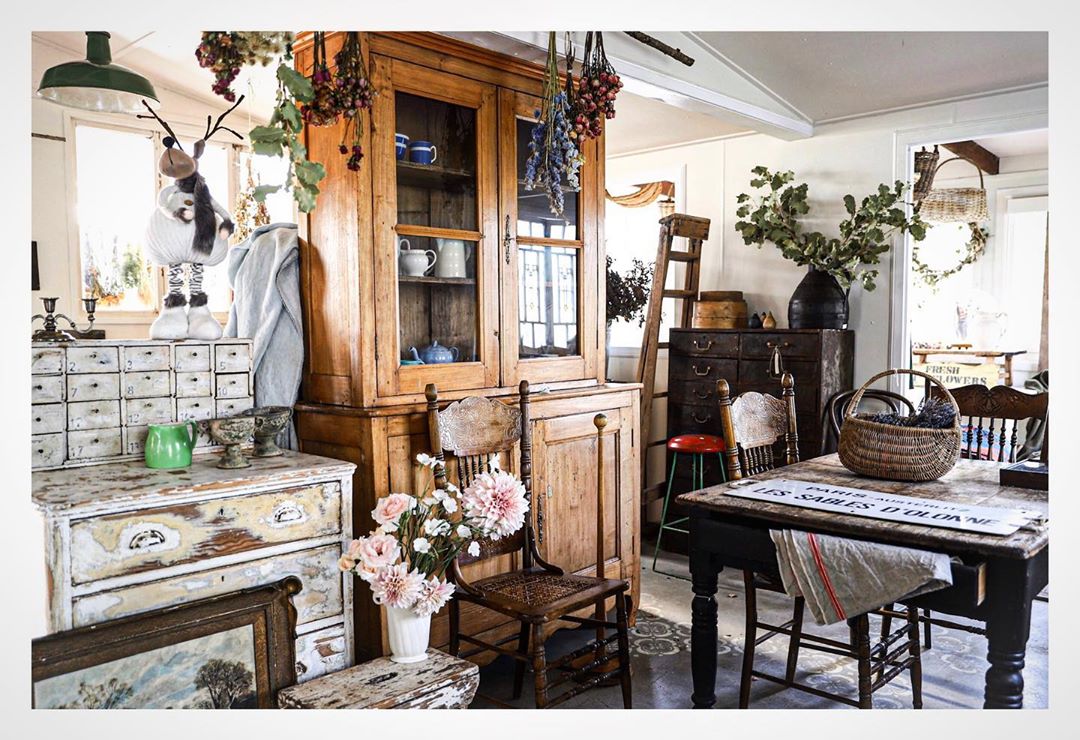 March 21, 2020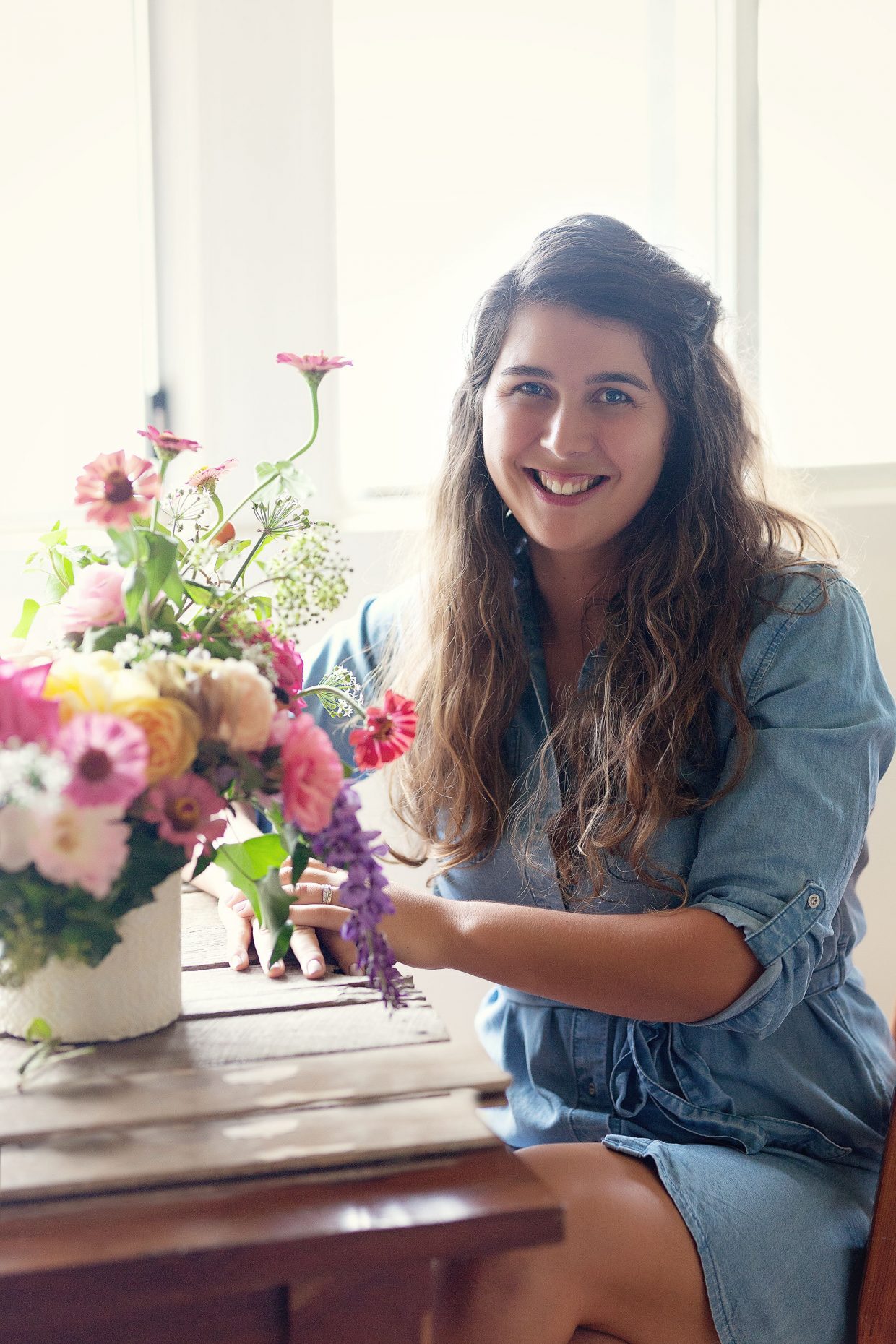 August 20, 2019